Add to My Calendar

2023-10-06

2023-10-08

11

2023 Diocesan Hispanic Charismatic Renewal Conference

The opening Mass for this event will be held at Immaculate Conception Church in Fort Smith at 7 p.m. Friday, Oct. 6. The conference continues with praise and worship, prayer and programs for children, youth and adults from 8 a.m. to 6 p.m. Saturday, Oct. 7 and from 8 a.m. to 3 p.m. Sunday. Oct. 8. Eucharistic healing and the Eucharist as the center of our lives will be the focus of the conference to coincide with National Eucharistic Revival. Bishop Anthony B. Taylor will celebrate the closing Mass at 3 p.m. The cost is $20 for those 13 and older in advance and $25 at the door. Youth ages 5-12 are $15 in advance and $20 at the door and children 5 and younger attend for free. This event is sponsored by Renovacion Carismatica Arkansas. For more information, contact Vilma Rodriguez at (562) 981-4308.

Fort Smith Convention Center

true

DD/MM/YYYY
Friday, Oct. 6, 2023 - Sunday, Oct. 8, 2023
Location: Fort Smith Convention Center
Contact: Vilma Rodriguez
Phone: (562) 981-4308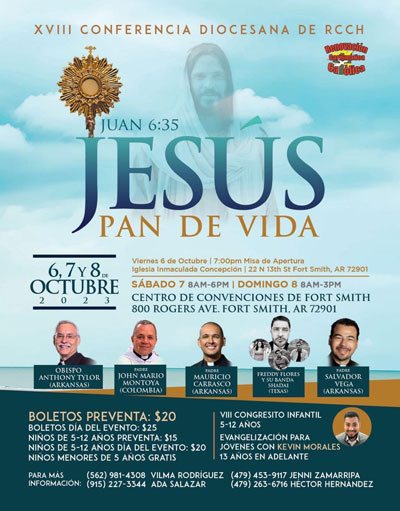 The opening Mass for this event will be held at Immaculate Conception Church in Fort Smith at 7 p.m. Friday, Oct. 6.
The conference continues with praise and worship, prayer and programs for children, youth and adults from 8 a.m. to 6 p.m. Saturday, Oct. 7 and from 8 a.m. to 3 p.m. Sunday. Oct. 8.
Eucharistic healing and the Eucharist as the center of our lives will be the focus of the conference to coincide with National Eucharistic Revival. Bishop Anthony B. Taylor will celebrate the closing Mass at 3 p.m.
The cost is $20 for those 13 and older in advance and $25 at the door. Youth ages 5-12 are $15 in advance and $20 at the door and children 5 and younger attend for free. This event is sponsored by Renovacion Carismatica Arkansas. For more information, contact Vilma Rodriguez at (562) 981-4308.
---