2021 — III Theology
Omar Galván, Immaculate Conception Church, Fort Smith
Attends St. Meinrad Seminary, Indiana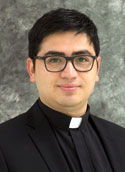 I originally felt called to the priesthood when I served as a youth group coordinator. Every Saturday during those two years, I would go to the youth group with a prepared talk. I also served in several youth retreats. During this time, I felt the call to the priesthood more intensely. After high school, I attended two years of college and sought a career, but instead of finding a career I found my vocation.
The beautiful thing about formation is, if it is taken seriously, it presents a lot of changes in life. For example, after reviewing all that I have done these past years, I have experienced many lessons and faced obstacles. One of the greatest discoveries is how I have changed. I have gotten to know myself more. I can identify my weaknesses and try, each day, to learn from them. I also recognize my strengths and utilize them to help others.
Getting to know myself in a deeper sense has helped me develop a stronger relationship with God. The process of getting to know myself is a two-man job, God and I. God has shown me the things that I need to work on. To change for the better, I had much help from my spiritual director and my formators. They have helped me with providing "food," which I take into prayer with God.
After I accepted my vocation, I lived in the House of Formation and earned degrees in Spanish, psychology and philosophy. I now attend St. Meinrad Seminary and School of Theology in southern Indiana. St. Meinrad is a great place to grow as a person but especially as a future priest. Thankfully, I have two years left to finish my seminary studies. A new year means new obstacles and problems, but also new perspectives and insights.
During my third year of theology, new steps are to be taken and hopefully those steps will lead me to ordination. I'm beyond excited that in less than a year, (May 2020) I will, God willing, be ordained a deacon. Although I may be a little scared, I know that I am not alone; I have my training from St. Meinrad, the company of my brother seminarians and the people of the Diocese of Little Rock are with me.
The commitment to my vocation has grown more and more because of the people of this diocese. I have had the privilege of traveling to several parishes for different events. The kindness of the people of the diocese encourages my commitment to my vocation and makes me desire the priesthood more than anything. Being present with the people during a parish event is beyond describable.
Seeing parishioners happy to see me at their parish activity makes me so happy to serve God. At that moment, I feel blessed and grateful to be a part of people's lives, hoping that one day I will be the one serving them as a priest. This past summer, I had the privilege of accompanying people in their suffering while in the hospital. As an intern chaplain at Baptist Health hospital, I learned that my priesthood is for everyone I encounter. I plead with everyone that reads this to keep me in their prayers. I know I can count on prayers from all the Diocese of Little Rock.
If you wish to contact Omar Galván, please e-mail Miriam Gallaher in the Vocations Office or call her at (501) 664-0340. This article was published Sept. 17, 2019. Copyright Diocese of Little Rock. All rights reserved. This article may be copied or redistributed with acknowledgement and permission of the publisher.