2019 — IV Theology
Dc. Martín Amaro, St. Edward Church, Little Rock
Attends Pontifical North American College, Rome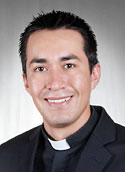 "The Lord will provide." (Genesis 22:14b)
I don't remember a specific moment when I felt God's call to the priesthood. Rather, many signs and the passage of time clearly led me to this vocation. This road to the priesthood began as I grew up, thanks to the faith of my parents, siblings and family members.
We have always been aware of the importance of attending Mass and of participating in the different activities of our home parish. When my parents, siblings and I moved to the U.S. from Mexico 14 years ago, I did tend to lose my relationship with God. I guess I was too worried about other things, like video games and hunting rather than going to church.
It wasn't until my junior year in high school that I started thinking very hard about what I wanted to do with my life and God was ready to give me an idea. One day after school, my mom told me she signed me up to attend a Search retreat. At first I didn't want to go, but during the retreat I noticed God's love towards me and how much he had done for me during my entire life.
After the retreat, I began going to Mass with more devotion. I also volunteered to serve on the altar and helped play the drums at the children's Mass at St. Edward Church in Little Rock. Halfway through my senior year, I was invited to the Come and See Retreat and it was there that I thought about entering the priesthood.
So I went and spoke with Father Jason Tyler about what I was thinking and he helped me by answering questions I had about my relationship with God and about the seminary. It was through prayer that I decided I wanted to enter seminary.
I contacted Msgr. Scott Friend and began the application process. I was scared because I was going to have to let go of a lot of things, not to mention letting go of my family and my friends. But God always reaches out his hand when we need help.
Graduating with a degree in philosophy covered the first half of my formation. I have learned that no matter what obstacles or barriers life has in store for us, God always has a way to help us to succeed. It took many hours of prayer and moments alone with God to find out what he wanted of me, and sometimes it hurt. I have learned that the best thing to do is what he wants and not what I want, even if it causes sacrificing time with friends and family.
During these seven years in seminary I have also learned to see Jesus Christ in my neighbor: in the sick, in the prisoner, in the depressed, in the homeless, in the poor, etc. And once again, he has given me significant signs that this is my vocation, such as receiving my candidature and getting accepted into the theology program in Rome.
This past year in particular, I have learned to trust in God's providence because he speaks to us very often and in many different ways. So being attentive to these particular moments has been crucial in my journey to the priesthood.
There is no doubt that the prayers from my parents, family members, people from my home parish and many others praying for my vocation is crucial to continue in this road. I am very grateful for all the people who pray for my vocation and the vocations of my brother seminarians.
Most importantly, I am grateful to God, who never let go of my hand during all this time in seminary.
---
E-mail Dc. Martin Amaro
(Enviar mensaje de correo electrónico)