Deacon Candidate — Class of 2022
Greg Fischer, Holy Rosary Church, Stuttgart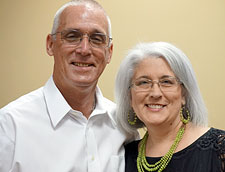 Why do you want to be a deacon?
I feel I am being called to be a deacon to serve God and his Church and people to help bring them to a closer relationship with God and to be true disciples of Jesus.
Married To: Mary Nina Fischer (She passed away in April 2018.)
Profession: Farmer
Interests and Hobbies: I enjoy duck hunting and camping, but mostly just hanging around with friends and family, especially my grandchildren.