2018 — IV Theology
Dc. Michael Johns, Blessed Sacrament Church, Jonesboro
Serving Pastoral Year at the Church of St. John the Baptist, Hot Springs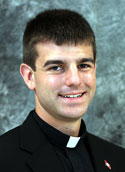 In the summer of 2008 I applied and was accepted as a seminarian for the Diocese of Little Rock. This decision was the fruit of a lifelong conversation with the Lord, who had begun to call me to priesthood from the time I was very young.
The first four years of my seminary journey were spent at Holy Trinity Seminary in Dallas where I earned a bachelor's degree in philosophy. After graduating from Dallas, I was sent to study theology at St. Meinrad Seminary in Indiana. After two years at St. Meinrad, I was then assigned to a pastoral year at St. Theresa Church in Little Rock.
During my pastoral year, I was able to grow in the understanding of my vocation and of priestly identity. I was able to do this by participating in many different kinds of ministry and especially by getting to know the people of the parish.
My self-identity as well as my priestly identity began to deepen and mature, almost imperceptibly at first. A deep love developed within me for the people of the parish, and I began to care for them and to feel responsible for them. They also really loved me, and this was very good for me to see and experience.
My experience in seminary, but especially at the parish, has helped me to see what a public person I have become, and also the authority that we receive and hold as seminarians and priests.
After my pastoral year, I returned to St. Meinrad for my third year of theology. It has been interesting to see how the Lord has used my experiences at the parish to help inform my experiences in seminary classes and formation.
I feel like the parish helped give me a concrete sense of what it is that I am doing in seminary, and I've been able to approach my studies in a more focused way, knowing what is needed to help people in the parish and in the diocese.
This has been very helpful for me as a deacon. The grace of ordination is enabling me to serve the people of God in more profound ways through baptisms, blessings and preaching. I feel privileged to be a member of the ordained clergy of my diocese. I find a deep sense of peace and joy, and also excitement and gratitude to the people of the Diocese of Little Rock.
E-mail Dc. Michael Johns
(Enviar mensaje de correo electrónico)