2020 — III Theology
Dc. Daniel Velasco Pérez, St. James Church, Searcy
Attends St. Meinrad Seminary, Indiana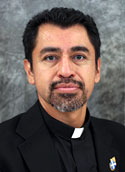 My discernment has been definitely an interesting journey. As I reflect back on the past three years, I can appreciate more God's presence in my life. Through this journey, I have been able to see God's presence in different specific events in my life.
In 2012, the Holy Spirit moved my soul, and I started wondering what else could I do to help my community, and what else can I do to build the Kingdom of God. At the same time, I started thinking about my career, and what I wanted to do in order to retire by age 55 or maybe even at 50.
Trying to listen to God, and still trying to keep my career goal, I started thinking about the diaconate, since that ministry would allow me to keep my job. It would also allow me to keep playing tennis, and maybe even achieve my career and retirement goals. However, God was trying to tell me something different.
A few weeks before serving on a retreat in October 2012, I started having a "strange feeling." At the time, I couldn't explain what it was, especially since I had already served in different retreats before that one. A few days before the retreat started, I had the opportunity to switch to a different team, since that team was one person short.
I told the administrator of the retreat to put me where God wanted me to be, and I was left on the same team. During the retreat, there was a time for adoration. I have run through my mind to understand what exactly happened, and I cannot explain it. There was no thunder or lightning. There, at that moment during adoration, in the silence of my heart, God was whispering, and for the first time, I realized that Jesus was inviting me to share on his priesthood.
That moment was overwhelming. I started feeling fear and confusion: Was that real? I tried to understand it, but as of today, I cannot. From that moment on, my discernment journey started.
It is hard to believe that I have finished four years in seminary, and God has allowed me to see all his blessings by preparing the path for me in this journey. This year has been a great opportunity to learn more about our faith, and about the love that God has for each one of us. I thank the people deeply from our diocese for their spiritual and economic support.
This summer I participated in the Clinical Pastoral Experience in Little Rock. This program helped me to learn more about how to be a good pastor to people from different faith traditions. My journey towards the priesthood continues. I am blessed to have the continuous support from the faithful from this diocese who are praying for me and walking with me on this journey.
May the Lord bless you all!
---