2021 — III Theology
Brian Cundall, Christ the King Church, Little Rock
Attends St. Meinrad Seminary, Indiana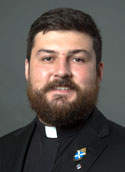 I originally felt the call to the priesthood in high school. I was a junior at Catholic High School in Little Rock when a teacher after class told me: "Brian, I think you would be a good priest." That moment began my discernment process. I began to struggle with the notion of discerning for the rest of high school. I wanted to know the answer to my vocation immediately, whether I was called to be a priest or married.
However, I think one of the biggest parts of discerning and knowing what God is calling me to is knowing how my heart is made. Did God make my heart in such a way as to love only one person for my life, or has God made my heart in a way as to love all of God's people. Now in my third year of theology I have discerned that God has given me the heart of a priest. He has made me in such a way that I can love all people.
It has been an absolute blessing being in the seminary. I have grown so much closer to Christ personally and I have grown as a person as well. Now, I especially look forward to the coming year and being ordained a deacon on May 20, 2020. There is no way I would have the courage to be in seminary without the loving support of my family and the people of this diocese. I am probably most thankful for the prayerful support of the diocese. Thank you, and God Bless!
If you wish to contact Brian Cundall, please e-mail Maria Izquierdo-Roque in the Vocations Office or call her at (501) 664-0340. This article was published Sept. 17, 2019. Copyright Diocese of Little Rock. All rights reserved. This article may be copied or redistributed with acknowledgement and permission of the publisher.