2021 — II Theology
Brian Cundall, Christ the King Church, Little Rock
Attends St. Meinrad Seminary, Indiana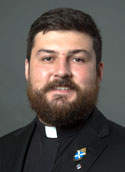 I originally felt the call to the priesthood in high school. I was a junior at Catholic High School in Little Rock when a teacher after class told me: "Brian, I think you would be a good priest." That moment began my discernment process.
I began to struggle with the notion of discerning for the rest of high school. I wanted to know the answer to my vocation immediately. It was not until I learned to let go of what I wanted and began accepting what God wanted for me that I decided to join the seminary.
Coming into seminary I was very doubtful that I would change much. I thought I had a good relationship with God. However, in my first year of theology I noticed changes in my relationship with Christ. These changes occurred because I was more open to God's will and love.
It has been an absolute blessing being in the seminary. I have grown so much closer to Christ personally. It has been a lesson in being more vulnerable and open to God's love. I have always had the blessing of being able to love Christ's people, but I had to learn at seminary however, to grow closer to Christ personally, which has come less naturally for me.
My vocation throughout discernment has remained steady as per my personality. I continue to be open to God's call while in seminary. As I said earlier I have always had a great love for the people of God.
There is no way I would have the courage to be in seminary without the loving support of my family and the people of this diocese. I am probably most thankful for the prayerful support of the diocese. Thank you, and God Bless!
---