Catholic Charities Golf Classic is Oct. 8
Register Team or Sponsor Tournament
Click on the button above to download the player registration and sponsorship form for the 2018 Bishop McDonald-Catholic Charities Golf Classic. Complete the form
and return it to the address provided. Call Catholic Charities of Arkansas at (501) 664-0340 for more information.
The 2018 Bishop McDonald-Catholic Charities Golf Classic will be Oct. 8 at the Maumelle Country Club. It will offer a four-person scramble with tee times at 8 a.m. and 1:30 p.m. shortgun start. Download the player registration and sponsorship form.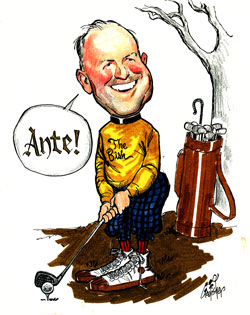 This will be the 24th year for this event, which will include continental breakfast, lunch and dinner along with complimentary beverages. Awards will be given following morning and afternoon plays. Team prizes will also be given for closest to pin, hole in one, longest drive and a putting contest.
Sponsorship opportunities range from covering the cost of a priest or religious to play for $150 to serving as tournament underwriter for $10,000 or more. For more information, contact Patrick Gallaher at (501) 664-0340, ext. 352.

This tournament is the primary fundraiser for the ministries and programs of Catholic Charities of Arkansas. These include: adoption, immigration and refugee resettlement services, free medical care and assistance for the poor, natural disaster response, legislative advocacy, support for those struggling with addictions, prison ministry and resources to assist in parish outreach and social justice.
In 2017, nearly $40,000 was raised for Catholic Charities of Arkansas. About 30 teams participated, which included eight priests and 20 organizations and individuals sponsored the tournament, including underwriter CHI St. Vincent. For more information, including the list of winners, visit Arkansas Catholic.
The golf tournament was named in honor of the late Bishop Andrew J. McDonald who served as shepherd for the Diocese of Little Rock from 1972 to 2000. It was during his tenure that Catholic Charities of Arkansas was established. The McDonald Center, which is home to the offices of Catholic Charities, is also named in his honor.