2018 CCA Golf Classic raises $35,000
The 24th annual Bishop McDonald-Catholic Charities Golf Classic was held Oct. 8 at the Maumelle Country Club. It offered a four-person scramble with tee times at 8 a.m. and 1:30 p.m. shortgun start with 28 teams participating, includeding four priests.

"The money will provide long-term stability to the organization," said Patrick Gallaher, executive director of Catholic Charities of Arkansas. "During the past year, money raised helped fund the crime victim services specialist, C2SI (Catholic Charities Summer Institute) and the entire prison ministry program."
Sacred Heart of Jesus Church in Hot Springs Village had the most parish teams with five, plus two from its Knights of Columbus Council 10208.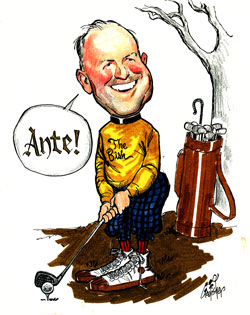 The following teams won in morning and afternoon flights:
Morning Flight — First Place: Father Bill Elser, Dennis Vanleeowen, Bobby Baker and Rick Meyers from Hot Springs Village
Morning Flight — Second Place: Kevin Hodges, John Liebling, Andrew Adlong and Harry Hutchinson from St. Bernard's Health Care in Jonesboro
Afternoon Flight — First place: Ted Yotten, Dick Kelley, Mike Jones and Buddy Calloway from Bray Sheet Metal in Little Rock
Afternoon Flight — Second place: Bob Koch, Father Chinnaiah "Y.C." Yeddanapalli, Joe Dierks and Bill Harper from St. John Church in Hot Springs
This tournament, which is the primary fundraiser for the ministries and programs of Catholic Charities of Arkansas, raised more than $35,000 for the following programs: adoption, immigration and refugee resettlement services, free medical care and assistance for the poor, natural disaster response, legislative advocacy, support for those struggling with addictions, prison ministry and resources to assist in parish outreach and social justice.

Thank you to all the organizations and individuals who sponsored, donated or volunteered to make this tournament a success. Special thanks to CHI St. Vincent for being this year's underwriter. See the full list of sponsors here. To learn more about this year's tournament, read Arkansas Catholic or contact Patrick Gallaher in Catholic Charities of Arkansas at (501) 664-0340, ext. 352.
This tournament was named in honor of the late Bishop Andrew J. McDonald who served as shepherd for the Diocese of Little Rock from 1972 to 2000. It was during his tenure that Catholic Charities of Arkansas was established. The McDonald Center, which is home to the offices of Catholic Charities, is also named in his honor.