Helping Form the Faith in Arkansas Colleges
Click on the button above to get contact information for a Catholic Campus Ministry program at an Arkansas college or university near you. For more information, contact Liz Tingquist, diocesan director of campus ministry, at (501) 664-0340, ext. 333.
Catholic Campus Ministry (CCM) in the Diocese of Little Rock witnesses to the Gospel of Jesus Christ by teaching and preaching the Word of God and by gathering together the community for worship and service. It is the Catholic Church's presence to all people involved in and with institutions of higher education in Arkansas. | Contact Us
---
---
Goals and Services
Using "Empowered by the Spirit: Campus Ministry Faces the Future," (National Conference of Catholic Bishops, November 1985) as its guide, the Office of Catholic Campus Ministry helps campus ministers at Arkansas colleges and universities work toward these goals by providing the following services: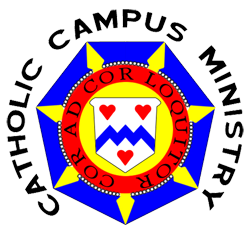 Goals of Catholic Campus Ministry
Forming the faith community, appropriating the faith, forming the Christian conscience, educating for justice, facilitating personal development, developing leaders for the future
Services of Catholic Campus Ministry Office
Providing ministry resources for campus ministers and faculty advisors, funding for campus ministry programs and centers, leadership workshops, assistance with program planning and sponsoring the annual diocesan campus ministry fall retreat and mission trip
"Campus ministry can be defined as the public presence and service through which properly prepared baptized persons are empowered by the Spirit to use their talents and gifts on behalf of the Church to be sign and instrument of the kingdom in the academic world." — Empowered by the Spirit: Campus Ministry Faces the Future, 21
Campus Minister Resources
Empowered by the Spirit: Campus Ministry Faces the Future
This pastoral letter from the U.S. Catholic bishops offers guidance to campus ministers committed to bringing the message of Christ to the academic world.
Campus Ministry Leadership Institute
This five-day training and working institute gathers student leaders and campus ministers from across the country as campus teams. Grounded in the U.S. bishops' pastoral letter, "Empowered by the Spirit: Campus Ministry Faces the Future," the institute is designed to produce effective leaders who work collaboratively to develop and implement successful Catholic Campus Ministry programs on college campuses, both private and public.
Sons and Daughters of the Light: A Pastoral Plan for Ministry with Young Adults
This document addresses the needs of young adults ages 18-39, who make up a large part of the Church and have the potential to contribute greatly toward the Christian mission. The U.S. bishops aimed to create a strategic plan to integrate young adults into the life of the Church in America, by taking into careful consideration the various stages of life and circumstances in which young adults find themselves.
---