Bishop Anthony Basil Taylor
Episcopal Insignia
The episcopal insignia for Bishop Anthony B. Taylor were blessed at a vespers service held on the eve of his ordination and installation as bishop. It was held at Christ the King Church on June 4, 2008. The insignia are signs of his pastoral office. To learn more, see his episcopal coat of arms.
The Ring
The ring is always worn on the ring finger of the bishop's right hand. It is the symbol of fidelity to the nuptial bond he has with the Church. Bishop Taylor chose to wear the ring of Little Rock's first bishop, Andrew Byrne. During the ordination, Bishop Taylor was presented his ring these words: "Receive this ring, the seal of your fidelity: adorned with undefiled faith, preserve unblemished bride of God, the holy Church."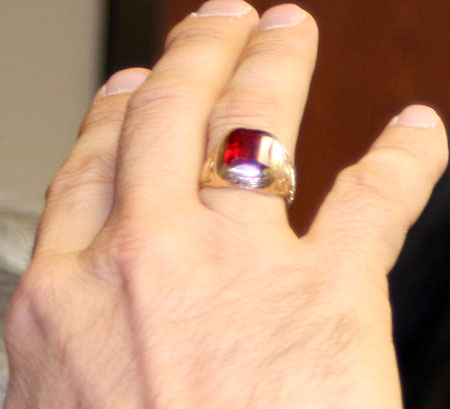 The Miter
The Miter is the liturgical headpiece worn by the bishop when exercising his office. Two bands called "lappers" hang from the back down onto the shoulders maintaining a connection with the original band bound about the head as a turban. During the ordination, the miter was placed on Bishop Taylor's head with these words: "Receive this miter, and may the splendor of holiness shine forth in you, so that when the chief Shepherd appears you may deserve to receive from him an unfading crown of glory."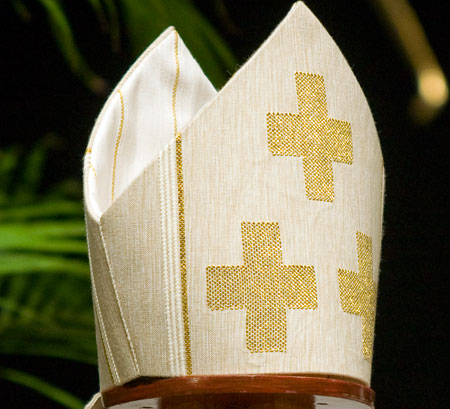 The Pastoral Staff
The Pastoral Staff or "crosier" is held in the left hand. A bishop carries it at liturgies celebrated in his own diocese. Bishop Taylor chose to use the staff of Little Rock's fourth bishop, Albert Fletcher. During the ordination, Bishop Taylor was given his staff with these words: "Receive the crosier, the sign of your pastoral office: keep watch over the whole flock in which the Holy Spirit has placed you as bishop to govern the Church of God."