Year of Mercy to be Dec. 8 to Nov. 20, 2016
Published: October 16, 2015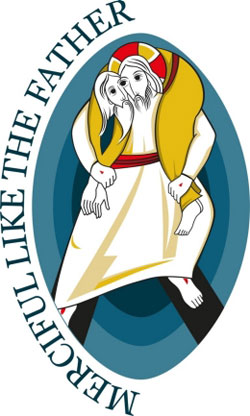 Pope Francis proclaimed that a special Holy Year of Mercy will begin Dec. 8 and continue through Nov. 20, 2016. The theme for the year will be: "Be Merciful, just as your Father is Merciful." (Luke 6:36) The Holy Father announced the extraordinary jubilee at St. Peter's Basilica during a Lenten penance service March 13. He declared the universal year to highlight the Catholic Church's "mission to be a witness of mercy."
Holy years feature special celebrations, pilgrimages, strong calls for conversion and repentance and special opportunities to experience God's grace through the sacraments, especially reconciliation. The doors of the Church "are wide open so that all those who are touched by grace can find the certainty of forgiveness," Pope Francis said at the penance service.
The logo for the Holy Year of Mercy was created by Jesuit Father Marko Rupnik. It represents an image very important to the early Church. It expresses how "the Good Shepherd touches the flesh of humanity and does so with a love and power to change one's life."
"One particular feature worthy of note is that while the Good Shepherd, in his great mercy, takes humanity upon himself, his eyes are merged with those of man. Christ sees with the eyes of Adam, and Adam with the eyes of Christ. Every person discovers in Christ, the new Adam, one's own humanity and the future that lies ahead, contemplating, in his gaze, the love of the Father." Learn more about the logo.
The official Jubilee of Mercy website also offers the Prayer of Pope Francis for the Jubilee and Hymn of the Jubilee of Mercy. To learn more, follow the Jubilee of Mercy on Facebook or visit the website for the U.S. Conference of Catholic Bishops.