Theresa Hall named superintendent
Published: August 21, 2018
Bishop Anthony B. Taylor announced the promotion of Theresa Hall as the new superintendent for Catholic schools on Thursday, Aug. 16. Hall joined the staff of the Diocese of Little Rock as associate superintendent of schools in 2009 after serving as principal at St. Edward School in Little Rock and teaching in Catholic schools for many years.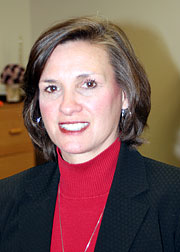 She replaced Vernell Bowen, who served as superintendent until her retirement in June.
In addition, the former principal of Our Lady of the Holy Souls School in Little Rock, Ileana Dobbins, was named the new associate superintendent of schools. Dobbins was the principal at Holy Souls for 15 years before leaving this summer. Prior to being principal there, she also served as an assistant principal, teacher and guidance counselor.
Marguerite Olberts, associate superintendent for marketing and public relations, will also continue serving in the Catholic Schools Office.
Together they will work with and guide the 28 Catholic schools in Arkansas that educate nearly 7,000 students in preschool through high school in 18 cities statewide. To learn more about our Catholic schools, see the school map, statistical information or read the Catholic Schools Herald, which is published four times a year by Arkansas Catholic.