May dedicated to Mary, our greatest saint
Published: May 1, 2021
In Catholic tradition, the month of May is dedicated to Mary. Chosen by God above all other women, Mary's faith and obedience paved the way for the Incarnation. Her example teaches us faith, obedience, humility and most of all, how to love. According to St. Thomas of Villanova, "If in this world any creature ever loved God with whole heart, with whole soul, and with whole mind, she was the creature."
The Catechism of the Catholic Church defines Mary's unique role as being honored above all other saints, including the Apostles. At the foot of the cross, her heart broke for Jesus, yet she accepted God's will not only for her Son, but for herself in her new role as mother to us all. (John 19:25-27) So, not only is she the mother of Jesus, and thus, the Mother of God, she is also the Mother of the Church.
Mary is mentioned in both the Apostles' and Nicene creeds. In the Mass she is included in the Eucharistic Prayer and referred to in some forms of the penitential rite. Of the Church's holy days of obligation, three are about her: the solemnities of Mary, the Mother of God; Assumption; and Immaculate Conception.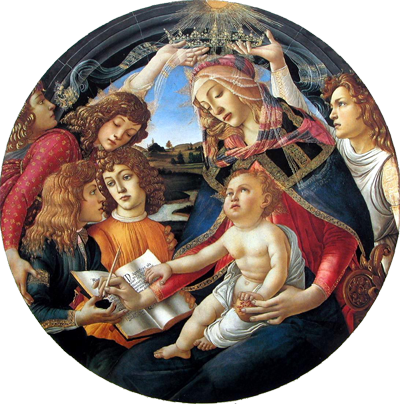 The "Madonna of the Magnificat" painted by Botticelli Filipepi in 1483
portrays Mary being crowned by two angels, while she writes the
Magnificat and holds her Son, Jesus. The Magnificat, which is Latin for
"My soul magnifies" is also known as the Canticle of Mary, which is the
prayer of thanksgiving that Mary said after being greeted by her cousin
Elizabeth at the Visitation. This feast is celebrated May 31.
Our Lady has appeared to the faithful to bring hope and give warnings to turn away from sin. She gave us the Miraculous Medal, the rosary and the scapular. She has been depicted in statues, icons, sculptures and paintings. To honor her, prayers, songs and poems have been written, devotions practiced, shrines dedicated and flowers named.
Some Christians are uncomfortable with such devotion to Mary. Father Erik Pohlmeier, diocesan faith formation director, explains the reason is because "there is probably no part of Catholic life so often misunderstood. Many claim devotion to Mary amounts to nothing more than worship that should be given to God alone. Of course, that is not the case but many Catholics are at a loss when it comes to explaining why." Read this Arkansas Catholic article to learn the difference between worship and honor in the Catholic Church.
Mary rightly predicted that all generations would call her blessed — not for her deeds — but because of the "greatness of the Lord." (Luke 1:46-48) In the end, those devoted to her are always led to her Son. For her wise counsel tells us, "Do whatever he tells you." (John 2:5)
In his 1965 encyclical, Pope Paul VI delighted in honoring Mary in the month of May because of the "rich benefits to the Christian people." Why? Because "the person who encounters Mary cannot help but encounter Christ likewise. For what other reason do we continually turn to Mary except to seek the Christ in her arms, to seek our Savior in her, through her, and with her?"
"In the end we should realize the great gift we have as Catholics. Honoring Mary seems natural to us. We honor our mother in heaven as easily as we honor our mothers on earth," Father Pohlmeier said. "From all mothers we learn a great deal. From Mary we learn the greatest thing, how to love God himself." As we honor our earthly mothers, let's honor our heavenly mother as well. "During the month of May we pray with our mother, that we may love Jesus as she does."
One of the most popular ways to honor Mary in Arkansas is with a May crowning. This tradition reenacts Mary's coronation in heaven. Typically children, usually those who recently received their first holy Communion, carry roses and place them at the feet of a statue of Mary while placing a crown of roses on top of her head. Because of the COVID-19 pandemic, parishes and schools may not host a May crowning this year. Contact a Catholic school or parish directly to see if a May crowning is being held in your area.
To help you grow your relationship with Mary, see this Marian video series, Five practical ways to reconnect with mama Mary, Nine ways to celebrate the month of Mary or What the month of May means to Catholics and how to honor it in your home. To learn more, see a list and explanation of Marian liturgical feasts, a Marian glossary, find out about 12 Plants Named for Our Lady and Their Pious Legends or read this FAQ about Mary in Catholic teaching.
---
---