Father Joseph Pallo, 92, dies Oct. 27
Published: November 4, 2022
Father Gregory Luyet, judicial vicar, released the following letter regarding the death of Father Joseph L. Pallo on Thursday, Oct. 27, 2022.
"Dear Sisters and Brothers in Christ,

"With faith in eternal life that comes through our Lord Jesus Christ, it is my sad duty to announce the death of Father Joseph Pallo. His 61 years of faithful priestly ministry touched many lives through the years as a pastor, youth director and vocations director. Even after transitioning to senior priest status, Father Pallo continued to assist at his adopted parish in California.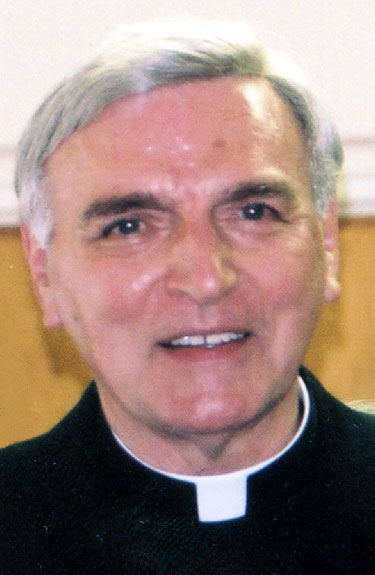 "Rev. Joseph Lawrence Pallo entered eternal life on Oct. 27, 2022, at Carmel Village Retirement Home in Fountain Valley, California. A native of Cleveland, Ohio, he was born on Sept. 10, 1930. He attended St. John's Home Missions Seminary in Little Rock and was ordained to the priesthood by Bishop Albert L. Fletcher at the Cathedral of St. Andrew on May 27, 1961.

"Father Pallo served as associate pastor in two parishes: Our Lady of Good Counsel in Little Rock (1961-1965) and St. Joseph in Pine Bluff (1965-1967). In 1967, Father Pallo served as chaplain of St. Vincent's Infirmary in Little Rock while residing at St. John's Seminary in Little Rock. In addition to his parochial ministry, Father Pallo assisted and led several diocesan offices.
"He was assistant director of Catholic education for the Diocese of Little Rock, diocesan director of the Newman Apostolate (college campus ministry), diocesan youth director and vocations director. Seminarians and young priests assigned to work with Father Pallo recall his kindness, practical wisdom and assistance that a priest be a servant who can work to care for the spiritual and temporal needs of the people.
"He served as the pastor of St. Thomas Aquinas Parish in Fayetteville and the Newman Center on the campus of the University of Arkansas (1977-1989) where he inspired many college students to grow in their faith for 12 years before becoming the pastor of Immaculate Conception in Blytheville and its missions for over 22 years (1989-2011).
"In addition to serving as pastor, Father Pallo ministered as an auxiliary chaplain at Eaker Air Force Base until the base closed in 1992. Father Pallo served as dean of the Northeast Deanery until his transition to senior priest status in 2011 when he relocated to Fountain Valley, California, where he volunteered his assistance to the parish of St. Vincent de Paul in Huntington Beach, California.

"Father Pallo is preceded in death by his parents Joseph Louis and Anna Veronica Pallo and four siblings George Pallo, Mary Wood Gamage, Ann Pallo and Josephine Krajny. He is survived by his brother, Albert, nieces and nephews in the United States and cousins in Slovakia."
"The Mass of Christian Burial for Father Joseph Pallo will be celebrated at St. Vincent de Paul Church (8345 Talbert Ave., Huntington Beach, California) on Monday, Nov. 7, 2022. A rosary and viewing will occur at 10 a.m. followed by the funeral Mass at 11 a.m. He will be interred immediately after the Mass at Good Shepherd Cemetery located next to the church. Following the Mass, a reception will be held at the parish hall."
"As is our custom, the priests of the Diocese of Little Rock are asked to offer three Masses for the repose of the soul of Father Pallo.
"'You are a priest forever, according to the order of Melchizedek.' (Heb. 7:17)"
In Christ,
Father Gregory T. Luyet