Diaconate ordination set for Dec. 14
Jack E. Sidler Sr., a member of Sacred Heart of Mary Church in Barling, will be ordained a transitional deacon at 10 a.m., Saturday, Dec. 14 at St. Boniface Church in Fort Smith by Bishop Anthony B. Taylor. He will serve his first Mass at 9 a.m., Sunday, Dec. 15 at St. Boniface. He is discerning the priesthood as a seminarian for the Diocese of Little Rock.
Sidler is a 69-year-old widower and convert to the Catholic faith. In his vocation story, he summed up calling: "My desire to serve our God and our Church as a priest has become stronger, and although I am nervous, I am not unsure of my call. I feel honored and humbled that I may spend the remainder of my life serving my God and faith community as their priest." To learn more, read his entire story in English or Spanish.
Become a St. Nicholas Partner and help poor
Did you know that Arkansas has the fourth highest poverty rate in the nation? And of those who live in poverty, more than 25 percent are children. Since 2006, Catholic Charities of Arkansas has raised nearly $90,000 through its annual St. Nicholas Partners Appeal to help the poor.

This year's St. Nicholas Partners card was inserted into the Nov. 30 issue of Arkansas Catholic. Included was a small donation envelope listing the ministries of Catholic Charities, which have direct, personal contact with the people they serve. Learn more about the work of Catholic Charities by reading the latest issue of Catholic Charities Connections.
Katherine Verdaris, a junior at Mount St. Mary Academy in Little Rock, created the artwork for this year's Christmas card. St. Nicholas' role as the patron saint of sailors served as her inspiration. However, the saint is especially known for his generosity to those in need. Please follow his example by becoming a St. Nicholas Partner. Donations may be given in the name of a friend or family member. To receive a card or get more information, contact Rebecca Cargile at (501) 664-0340, ext. 355. Mail donations to: St. Nicholas Partners, Catholic Charities of Arkansas, 2500 N. Tyler St., Little Rock, AR 72207.
Vocation retreats to be offered at diocese
Two free discernment retreats will be offered at St. John Catholic Center in Little Rock in January to help single men and women explore a call to priesthood or religious life. Meals and lodging will be provided.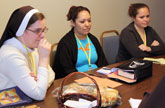 A Come and See Retreat will be held Jan. 3-4 for men ages 16 and older. Rooted in prayer and to consist of talks, group discussion, vocational videos and personal testimonies, this retreat is designed to help participants discern priesthood. The 24-hour-retreat begins at 3 p.m. Jan. 3 in Fletcher Hall. For more information, contact Maria Izquierdo-Roque, in the diocesan Vocations Office, at (501) 664-0340. Register by completing the registration form and returning it by Dec. 16. It is provided in English and Spanish.
A Women's Religious Vocations Retreat will be held Jan. 10-11 for women ages 16 to 35. To consist of talks, group discussion, prayer, journaling and Mass, this retreat is designed to help participants discern a calling to religious life. Attendees will also meet with religious sisters from a variety of religious orders serving in Arkansas. The 24-hour-event begins at 5 p.m. Jan. 10. For more information, contact Sister Joan Pytlik, DC, minister for religious, at (501) 664-0340. Register by completing the registration form and returning it by Jan. 6.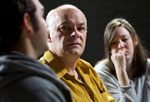 Ministry Spotlight
Alcohol and Drug Ministry
This ministry educates parishes, other diocesan groups and diocesan clergy on alcohol and drug issues. It offers resources, referrals and information about interventions and assists parishes in initiating 12-Step programs as needed. It also acts as the liaison between the diocese and the Calix Society, which promotes spiritual development for recovering addicts. Learn more
---
What's New
---
Special Features
---
Submit an Event
Dec. 12: Las Posadas
Dec. 12: Our Lady of Guadalupe Feast
Dec. 12: Feast of Our Lady of Guadalupe
Dec. 13 - Dec. 15: Search #132
---
Subscribe
Subiaco Academy revives Saturday morning tradition
Saturday student work crews are once again keeping Subiaco beautiful ...
Central Arkansas Catholics give child use of her hands
Little Rock parish aids 9-year-old girl in gaining use of her ...
Siloam Springs church's life-size crèche a tradition
Parishioners help turn a humble manger scene into an annual event ...
---