Return to Me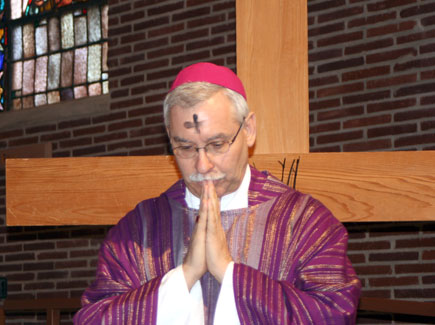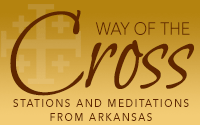 Our Father beckons: "Return to me with your whole heart." Each Lent the Church offers us a 40-day retreat designed to help us respond to God's call. Lent is the primary penitential season of the liturgical year. We partake in Lent with prayer, fasting and almsgiving. Lent begins on Ash Wednesday and ends with the Easter Triduum — Holy Thursday, Good Friday and Holy Saturday. The Triduum is the liturgical celebration to help us embrace the ultimate act of love: Jesus' passion, death and resurrection, the foundation of the Christian faith. To help you get the most from your time in the desert, go to Lent 2014. These resources are available in English and Spanish.
40 Days for Life offers prayer vigil
The 40 Days for Life Lenten campaign will take place in Little Rock and Fayetteville from March 5 to April 13. This event highlights prayer, fasting, community outreach and a 40-day vigil to pray for an end to abortion. According to the organization's website, the campaign, which began in the United States in 2007, has spread to 501 cities worldwide.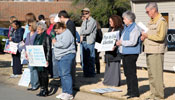 In Little Rock, participants will gather outside the only remaining surgical abortion facility in Arkansas at 4 Office Park Drive. For more information or to volunteer, contact Deana Luyet at (501) 425-3552 or Diane Moellers at (501) 868-8100 or visit 40 Days for Life — Little Rock.
In Fayetteville, the prayer vigil will take place at the public right-of-way in front of Planned Parenthood at 3729 N. Crossover Rd. For more information or to volunteer, e-mail the leadership team at 40daysnwa@gmail.com or visit 40 Days for Life — Fayetteville.
Give your spare change to CRS Rice Bowl
"For Lent, For Life: What you Give Up for Lent Changes Lives," is the theme for CRS Rice Bowl, which draws participation from parishes, schools and families nationwide, highlighting the Lenten practices of prayer, fasting and almsgiving. Participants put money into their "rice bowls" they may have otherwise spent on themselves, while learning about the people they are helping in developing countries around the world. This program is sponsored by Catholic Relief Services, the official overseas relief and development agency of the U.S. Conference of Catholic Bishops.
This year, the Diocese of Little Rock is asking that all parish and school CRS Rice Bowl donations be sent directly to CRS rather than to Catholic Charities of Arkansas or the diocesan Finance Office. It is the first time that the collection has been handled this way.
The diocese still will receive its usual 25 percent share of the collection, as CRS uses ZIP codes to determine from which diocese the money is sent. A special mailing will be sent to all parishes and schools in mid-March to explain how donations should be returned. The mailing will also include a poster to advertise collection information, helpful tips for collecting Rice Bowls and a return envelope.
Catholic Charities uses the 25 percent of the CRS Rice Bowl collection from Arkansas to fund its Emergency Assistance Program. This program provides limited financial help on a case-by-case basis to people unable to meet basic living needs. Types of assistance provided include prescriptions, utilities, medical bills and emergency transportation.
Ministry Spotlight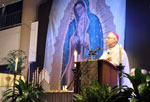 Office of the Bishop
Through the Office of the Bishop, Bishop Anthony B. Taylor shepherds the people of the diocese with the assistance of his priests who lead the parishes and ministries under the bishop's guidance and leadership. Together they work to proclaim the Good News of Jesus Christ with the goal of leading all people to eternal life in heaven. Learn more
---
What's New
---
Special Features
---
Submit an Event
March 10: Rite of Election
March 15: St. Patrick's Day Dinner
March 15: Dinner Belles and Auction
March 15: Homemade Sausage and Spaghetti Dinner
---
Subscribe
Yell County Catholic app first of its kind in diocese
Yell County pastor stays in touch with faithful via smartphone app ...
Reconciliation makes strides with the young, converts
Jesus calls us to the confessional, so why don't more of ...
Catholic High Rocket grapplers land state team title
Last year's runners-up, Rockets bring home state wrestling team title ...
---