Masterpiece of God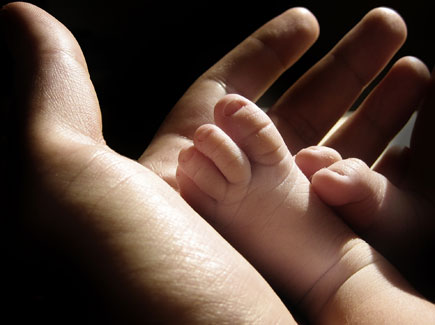 "Even the weakest and most vulnerable, the sick, the old, the unborn and the poor, are masterpieces of God's creation, made in his own image, destined to live forever, and deserving of the utmost reverence and respect." Pope Francis said this during his 2013 Day of Life greeting to remind us that we are all loved.
Each October, the Catholic Church celebrates Respect Life Month to testify to this simple, yet crucial truth. Therefore, "Each of Us is a Masterpiece of God's Creation" is the theme for the 2014-15 Respect Life Program, which begins on Respect Life Sunday, Oct. 5. To participate in Respect Life Month events, consider the 40 Days for Life campaign, which continues in Little Rock and Fayetteville through Nov. 2 or a Life Chain in your area. The U.S. Conference of Catholic Bishops offers lots of resources to help you celebrate with your family or in your parish, including intercessions for life, posters and flyers and pamphlets for group discussion on a variety of topics. Learn more
Fr. Melnick suspended from ministry
Bishop Anthony B. Taylor delivered a homily about the suspension of Father James Melnick at St. John Church in Russellville, St. Augustine Church in Dardanelle and St. Andrew Church in Danville on Sept. 27-28. For more information, read his homily in English or Spanish.
Annual Red Mass to be celebrated Oct. 3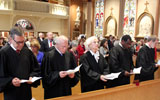 The public is invited to attend the 20th annual Red Mass invoking the Holy Spirit on judges, attorneys, government officials, law professors and students Friday, Oct. 3 at 11 a.m. at the Cathedral of St. Andrew in Little Rock.
Bishop Anthony B. Taylor will be the main celebrant. A luncheon in McDonald Hall will follow Mass featuring Donald Corbin as the keynote speaker. The cost is $25. A two-hour Continuing Legal Education workshop will be presented by the Arkansas Lawyer Assistance Program after lunch. The cost is $50. To make reservations or get more information, contact Connie Phillips at (501) 680-6919 or cbphillipslaw@gmail.com.
Youth rally gathers high school youth Oct. 12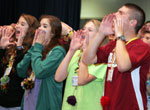 The 2014 Senior High Youth Rally will be held at Catholic High School in Little Rock on Sunday Oct. 12. This event is sponsored by the diocesan Catholic Youth Ministry Office and is open to youth in grades 9-12. It includes praise and worship music, a guest speaker, lunch and Mass.
This year's featured presenter is Greg Wasinski, a speaker at youth rallies nationwide, including the 2013 National Catholic Youth Convention. Through his "Let Me Be" Ministries he uses Church teaching and real-life examples to show how faith and everyday life come together. The rally will be held from 11 a.m. to 5:30 p.m. The cost is $25 per student and the deadline to register is Sept. 29. Parish youth leaders may download the registration form and return it to the Catholic Youth Ministry Office or contact Tricia Gentry at (501) 664-0340, ext. 418 for more information.
Fall 40 Days for Life continues in Arkansas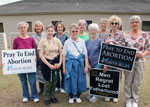 The fall campaign of 40 Days for Life began Sept. 24 and continues through Nov. 2 in Little Rock and Fayetteville. Participants are invited to come and pray for an end to abortion from 7 a.m. to 7 p.m. daily.
In Little Rock, participants gather on the sidewalk in front of #4 Office Park Drive. To learn more or sign up, visit 40 Days for Life - Little Rock, or call Mary Pate at (501) 231-8202 or Marsha Boss at (501) 960-5051. The Fayetteville vigil is being held in front of the Planned Parenthood clinic at 3729 N. Crossover Rd. To learn more, visit 40 Days for Life-Fayetteville or e-mail Julia Pritchett at 40daysnwa@gmail.com.
Ministry Spotlight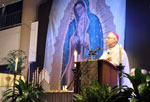 Office of the Bishop
Through the Office of the Bishop, Bishop Anthony B. Taylor shepherds the people of the diocese with the assistance of his priests who lead the parishes and ministries under the bishop's guidance and leadership. Together they work to proclaim the Good News of Jesus Christ with the goal of leading all people to eternal life in heaven. Learn more
---
What's New
---
Special Features
---
Submit an Event
Nov. 1: Fall Festival
Nov. 1: St. Joseph Sausage Supper to honor Julius Greb
Nov. 1 - Nov. 2: All Souls Festival
Nov. 1: St. Theresa Dinner and Bingo
---
Subscribe
When grief takes over, church offers beacon of hope
Ministry at Conway church assures that no one needs to grieve ...
Catholic league sees fewer players, but future's bright
Fewer boys signed up for Catholic middle-school football this season ...
Video calls connect Guatemalan, Fort Smith students
Nuns, teachers join Guatemalan kids in 'class' via Internet video call ...
---