Come to Me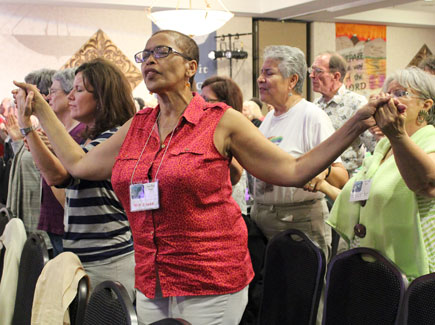 Helen Evans of Little Rock (center) joins hands in prayer with other participants at the 2013 Arkansas Catholic Charismatic Conference. This year it will be held Aug. 1-3 at the Wyndham Riverfront Hotel in North Little Rock. The theme will be: "Come to Me: My Inheritance is Sweeter Than the Honeycomb" (Sirach 24). Bishop Anthony B. Taylor will celebrate Mass at 10 a.m. on Sunday, Aug. 3. Featured speakers will include Bishop Emeritus Sam Jacobs of the Diocese of Houma-Thibodaux, La., and Ralph Martin, STD, director of Graduate Theology Programs in the New Evangelization at Sacred Heart Major Seminary in the Archdiocese of Detroit. Master of ceremonies will be Father Tony Robbins of Camden. The conference will also include eucharistic adoration, the sacrament of reconciliation, praise and worship music, a healing service, children's ministry and more. It is sponsored by Catholic Charismatic Renewal Services of Little Rock. For more information, visit www.arkcc.org or call Linda Williams at (501) 753-1553.
EPJ to evangelize young adults

Encuentros de Promoción Juvenil (Encounters of Youth Promotion) is a Catholic movement of young adults (ages 18-25) who evangelize their peers to accept the Gospel, live their vocation and take on leadership roles in Christian groups in their communities. It is modeled after Cursillo and presented in Spanish.
An EPJ weekend for women will be held July 31 to Aug. 3. An EPJ retreat for men will be held Aug. 28-31. Both will be at St. John Catholic Center in Little Rock. This program is sponsored by the Hispanic Ministry Office. For more information, or to register for these or future EPJ weekends, contact Rocio Montes, associate director for Hispanic Youth and Young Adult Ministry, at (501) 664-0340, ext. 364.
Seminarians getting hands-on experience
The seminarians for the Diocese of Little Rock have been getting some hands-on experience in recent weeks. Since June, Seminarian Summer Evangelization Teams have been helping with Scripture studies, confirmation retreats, religious education, Vacation Bible School, sacramental preparation, visiting the homebound and sick and assisting at Masses in 17 parishes across Arkansas.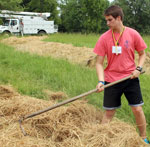 They have served for two weeks each at St. Joseph, Fayetteville, St. Joseph, Conway, Immaculate Heart of Mary, North Little Rock (Marche), St. Theresa, Little Rock, St. Augustine, Dardanelle, St. Joseph, Center Ridge, St. Mary, Batesville, St. Jude, Jacksonville, St. Barbara, De Queen, Holy Redeemer, Clarksville, St. Meinrad, Prairie View, St. Ignatius, Scranton, Our Lady of the Assumption, Booneville, St. Louis, Camden, St. Anne, North Little Rock, St. Edward, Texarkana and Holy Rosary, Stuttgart.
Seminarians also served at the Catholic Charities Summer Institute for high school youth and with the Missionaries of Charity of Calcutta sisters at Abba House, a shelter for pregnant mothers, their children and homeless women, both in Little Rock. Deacon Chuck Ashburn, diocesan director of the Office of Faith Formation, organizes the teams for the Vocations and Seminarians Office.
Post-abortion support group to meet this fall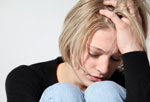 The diocesan Respect Life Office will host a post-abortion support group called Project Rachel beginning the third week in September for women who are hurting from an abortion. The spiritual journey lasts 11 weeks, with small groups of six to eight women. Groups will be formed in Little Rock, Rogers/Springdale and Hot Springs. All names and meeting places are strictly confidential. For more information, call (501) 664-0340, ext. 357.
Ministry Spotlight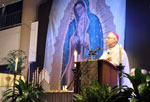 Office of the Bishop
Through the Office of the Bishop, Bishop Anthony B. Taylor shepherds the people of the diocese with the assistance of his priests who lead the parishes and ministries under the bishop's guidance and leadership. Together they work to proclaim the Good News of Jesus Christ with the goal of leading all people to eternal life in heaven. Learn more
---
What's New
Statement on Crisis at U.S. Border — Read what Bishop Anthony B. Taylor calls "a test of the moral character of our nation" regard-ing Central American refugees at the U.S. southern border
Plight of Unaccompanied Child Refugees — Learn what the Catholic Church is doing to help the migrant children at the southern U.S. border and find out what you can do to help
Natural Family Planning Awareness Week — Deepen your awareness of these methods to help couples achieve or avoid pregnancy or learn why the Church endorses them from July 20-26
Pope App — Download this new, free app to get the latest news and information about Pope Francis and the Vatican on your smartphone or other mobile device
---
Special Features
---
Submit an Event
July 31 - Aug. 3: Encuentros de Promoción Juvenil #23 de Las Mujeres
Aug. 1 - Aug. 3: Arkansas Catholic Charismatic Conference
Aug. 1: Bingo for Charity
Aug. 1: Annual Parish Fish Fry and Bake Sale
---
Subscribe
Archbishop: Pope will visit Philadelphia in Sept. 2015
Philadelphia Archbishop announces papal visit; Vatican yet to confirm ...
Pope heads to Vatican cafeteria for Friday fish menu
Workers on lunch break are shocked to be sharing table with ...
Latin Mass community displays heritage of the Church
St. John the Baptist Latin Mass Community attracts the young, devoted ...
---