Serving One Another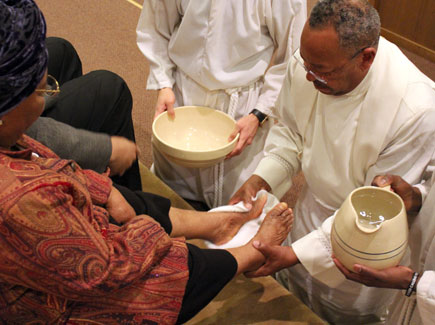 Father Warren Harvey washes the feet of a parishioner during Holy Thursday Mass at Our Lady of Good Counsel Church in Little Rock March 28, 2013. Lent ends as the celebration of the Easter Triduum begins with this liturgy, also known as the Mass of the Lord's Supper. On this day, we celebrate the institution of the Eucharist and the washing of feet. Both were commands of Jesus. "Amen, amen, I say to you, unless you eat the flesh of the Son of Man and drink his blood, you do not have life within you." (John 6:53) And "If I, therefore, the master and teacher, have washed your feet, you ought to wash one another's feet. I have given you a model to follow, so that as I have done for you, you should also do." (John 13:14-15) Maundy Thursday, the traditional title, reflects this need to serve. It comes from the Latin, "mandatum novum" ("a new command"), which is based on John 13:34: "I give you a new commandment: love one another. As I have loved you, so you also should love one another." Understanding the connection between the Eucharist and service is key to this liturgy. "We are confronted with the reality that we cannot love God unless we love our neighbor." Learn more

Bishop to celebrate Easter Triduum
Bishop Anthony B. Taylor will celebrate the Easter Triduum at the Cathedral of St. Andrew in Little Rock. The schedule is as follows: Holy Thursday Mass of the Lord's Supper, April 17 at 6 p.m.; Good Friday Passion of the Lord, April 18 at 12:05 p.m.; and the Easter Vigil Mass (Holy Saturday), April 19 at 8 p.m. Easter Sunday Masses will be celebrated April 20 at 8:30 a.m. and 12:05 p.m. To see the Holy Week Mass Schedule for your area, the list for live Stations of the Cross or other special events during Holy Week, visit Arkansas Catholic.
Thursday collection to benefit 41 seminarians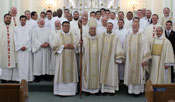 The Holy Thursday Collection for seminarian education will be held April 17. The money from this diocesan collection will support the educational and housing expenses for the diocese's 41 seminarians. It costs the diocese $1.3 million to educate these men annually. Donations can also be mailed to Holy Thursday Collection, Diocese of Little Rock, P.O. Box 7239, Little Rock, AR 72217. Msgr. Scott Friend, vicar general and diocesan director of vocations, addressed the need for financial support in a letter to be read at all Masses on Holy Thursday. "I invite you once again this year to open your hearts and help support these young men who will someday be your priests," Msgr. Friend wrote. "We need your help to be able to prepare our seminarians for the priesthood. Every dollar is important. Every gift is an expression of faith." Read the entire letter in English or Spanish.
New Catholics to be welcomed at Easter Vigil

Catholic parishes across Arkansas will welcome an estimated 543 new Catholics into the Church during their Easter Vigil Masses on Holy Saturday, April 19. These people have participated in their parish's Rite of Christian Initiation of Adults process. Those participating fall into two groups: the elect and candidates. The elect have not been baptized and have been formed in the Christian faith and life. At the Easter Vigil, they will be baptized, confirmed and receive their first Communion. Candidates are baptized members of other Christian churches who wish to become Catholic. During the Easter Vigil, they will make a profession of faith, be confirmed and receive their first Communion. The list of all those entering the Church can be found in the April 19 issue of Arkansas Catholic.
LRSS scholarships to help pay for college

Little Rock Scripture Study is taking applications for its Scholarship for Studies Preparing for Lay Ministry. Each year four parishioners in Arkansas can receive $1,000 to assist them in pursuing college or graduate degrees in fields such as theology, Scripture, sacred music, canon law, liturgy, pastoral administration or religious education. The application deadline is May 1. To apply, e-mail Cackie Upchurch, director of Little Rock Scripture Study, or call (501) 664-6102.
Ministry Spotlight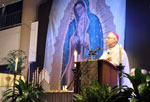 Office of the Bishop
Through the Office of the Bishop, Bishop Anthony B. Taylor shepherds the people of the diocese with the assistance of his priests who lead the parishes and ministries under the bishop's guidance and leadership. Together they work to proclaim the Good News of Jesus Christ with the goal of leading all people to eternal life in heaven. Learn more
---
What's New
---
Special Features
---
Submit an Event
April 18: Holy Land Collection
April 18: Good Friday Luncheon
April 18: Good Friday Passion Play
April 18: Good Friday
---
Subscribe
Conway and Warren faithful form mission partnership
Conway church identifies St. Luke parish in Warren for mission work ...
New Our Lady of the Assumption consecrated April 4
Our Lady of the Assumption blends old, new at April 4 ...
Arkansas parishes list Holy Week services schedule
Worship and activities schedule announced for parishes across state ...
---