Christ Our Light
At dusk, Msgr. David LeSieur, pastor of St. Vincent de Paul Church in Rogers, lights the paschal candle, symbolizing the light of Christ, before the Easter Vigil Mass on March 30, 2013. Each year on Holy Saturday we gather for the climax of the Easter Triduum. "On this holy night, the Church keeps watch, celebrating the resurrection of Christ in the sacraments and awaiting his return in glory. It is the turning point of the triduum, the Passover of the new covenant, which marks Christ's passage from death to life." The Easter Vigil Mass consists of four main parts: the Service of Light, the Liturgy of the Word, Liturgy of Baptism and Liturgy of the Eucharist. Individuals will join the Catholic Church by receiving the sacraments of baptism, confirmation and Eucharist in parishes across Arkansas tonight. Witness the miracle of new life in Christ by attending the Easter Vigil Mass in your area
Bishop to celebrate Easter Triduum
Bishop Anthony B. Taylor will celebrate the Easter Triduum at the Cathedral of St. Andrew in Little Rock. The schedule is as follows: Holy Thursday Mass of the Lord's Supper, April 17 at 6 p.m.; Good Friday Passion of the Lord, April 18 at 12:05 p.m.; and the Easter Vigil Mass (Holy Saturday), April 19 at 8 p.m. Easter Sunday Masses will be celebrated April 20 at 8:30 a.m. and 12:05 p.m. To see the Holy Week Mass Schedule for your area, the list for live Stations of the Cross or other special events during Holy Week, visit Arkansas Catholic.
New Catholics to be welcomed at Easter Vigil

Catholic parishes across Arkansas will welcome an estimated 543 new Catholics into the Church during their Easter Vigil Masses on Holy Saturday, April 19. These people have participated in their parish's Rite of Christian Initiation of Adults process. Those participating fall into two groups: the elect and candidates. The elect have not been baptized and have been formed in the Christian faith and life. At the Easter Vigil, they will be baptized, confirmed and receive their first Communion. Candidates are baptized members of other Christian churches who wish to become Catholic. During the Easter Vigil, they will make a profession of faith, be confirmed and receive their first Communion. The list of all those entering the Church can be found in the April 19 issue of Arkansas Catholic.
55 years of our Catholic history now digitized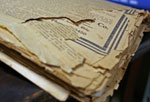 Much progress has been made to preserve diocesan history through Arkansas Catholic's Guardian Angel campaign. The weekly newspaper has digitized 33 volumes since April 2013, bringing the total volumes of The Southern Guardian and The Guardian available online to 55 years. With donations, the newspapers were electronically scanned, made searchable and available through Arkansas Catholic's online archive.
Since the campaign began in 2010, parishes, religious orders, businesses and individuals have donated $55,080. In the next two to three years, the newspaper will focus on getting the issues from 1966 to 2001 digitized. Digital editions from 2002 to the present are available through subscription to Arkansas Catholic Online. If you would like to help Arkansas Catholic preserve these years, download the donation form and mail it in with your contribution. Donors may sponsor a year in honor of a pastor, family member or parish for as little as $500. For more information, e-mail Malea Hargett or call her at (501) 664-0125.
LRSS scholarships to help pay for college

Little Rock Scripture Study is taking applications for its Scholarship for Studies Preparing for Lay Ministry. Each year four parishioners in Arkansas can receive $1,000 to assist them in pursuing college or graduate degrees in fields such as theology, Scripture, sacred music, canon law, liturgy, pastoral administration or religious education. The application deadline is May 1. To apply, e-mail Cackie Upchurch, director of Little Rock Scripture Study, or call her at (501) 664-6102.
Ministry Spotlight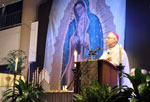 Office of the Bishop
Through the Office of the Bishop, Bishop Anthony B. Taylor shepherds the people of the diocese with the assistance of his priests who lead the parishes and ministries under the bishop's guidance and leadership. Together they work to proclaim the Good News of Jesus Christ with the goal of leading all people to eternal life in heaven. Learn more
---
What's New
---
Special Features
---
Submit an Event
April 23: Brown Bag Luncheon on Canonization Process
April 24: Bishop Anthony B. Taylor's Birthday
April 24 - May 29: Six-Week Series for Non-Practicing Catholics
April 25 - April 26: School of Spiritual Direction
---
Subscribe
Little Rock school adds archery to Phys. Ed. lineup
Holy Souls program introduces bows, arrows into the P.E. curriculum ...
Ministry binds two friends in common mission for life
Polar opposites, two Little Rock women share mutual mission for life ...
Teen candidate already living Catholic social justice
Anna Shelton, 16, enters Church with impressive resume of service ...
---