Golf Classic will be Sept. 26 in Maumelle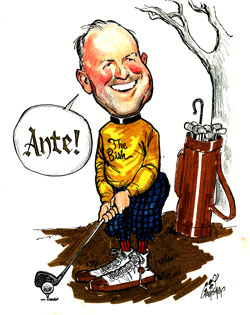 The 22nd annual Bishop McDonald-Catholic Charities Golf Classic will be held Sept. 26 at the Maumelle Country Club. It will offer a four-person scramble with shotgun start times at 8 a.m. and 1:30 p.m.
Complimentary beverages and meals will be provided along with awards following morning and afternoon plays. If you would like to be a sponsor or register your team, please contact Bridget Lewis at (501) 664-0340, ext 379.
This tournament is the primary fundraiser for the ministries and programs of Catholic Charities of Arkansas.

These include: adoption, immigration and refugee resettlement services, free medical care and assistance for the poor, natural disaster response, legislative advocacy, support for those struggling with addictions, prison ministry and resources to assist in parish outreach and social justice.
In 2015, proceeds for this event exceeded $45,000. For more information, read Arkansas Catholic. The golf tournament was named in honor of the late Bishop Andrew J. McDonald who served as shepherd for the Diocese of Little Rock from 1972 to 2000.
It was during his tenure that Catholic Charities of Arkansas was established. The McDonald Center, which is home to the offices of Catholic Charities, is also named in his honor.