Support for Catholics with Mental Illness
The St. Dymphna Society is a support group for those struggling with mental illness and their families. Named for St. Dymphna of Gheel, patron saint of mental and emotional illness sufferers, this ministry strives to address the spiritual needs of members. For those who feel cut off from their Catholic faith, who fear stigmatization, or have lost all connection with their spiritual lives, this group provides a safe place to share thoughts and feelings and feel welcome.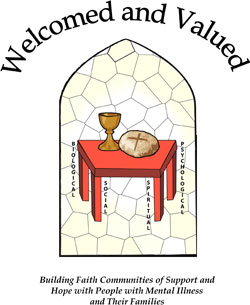 St. Dymphna Society meetings are one component of an overall mental health ministry being developed by Catholic Charities of Arkansas. This ministry will also provide education and resources to pastors to help them meet the needs of parishioners with mental and emotional illness. In the meantime, the following book is available for purchase: "Welcomed and Valued — Building Faith Communities of Support and Hope with People with Mental Illness and Their Families." It is also available in DVD. This book is the basis for the mental health ministry by Catholic Charities. It is provided by the National Catholic Partnership on Disability.
St. Dymphna Society Meetings
The Little Rock chapter of the St. Dymphna Society meets on the last Tuesday of each month on the campus of St. John Catholic Center. These gatherings begin with Mass at 6 p.m. followed by a meeting. Catholic Charities of Arkansas sponsors the chapter. No reservations are necessary, and all are welcome to attend. To learn more, contact Catholic Charities of Arkansas at (501) 664-0340. Visit our Calendar of Events to confirm dates and location.