2026 — II Philosophy
Joseph Gabriel Jones, Cathedral of St. Andrew, Little Rock
Attends the House of Formation in Little Rock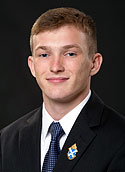 I first experienced a call to the priesthood at a very young age. During my kindergarten year at St. Patrick School, we took an oral exam on the Hail Mary and the Our Father. After I recited the prayers, my teacher asked me how and why I knew the prayers so well.
My response was, "I have to know them. I'm going to be a priest." My teacher laughed and thought that it was funny for a five year old to want to be a priest. However, I never found it very funny, for in my heart I knew that I wanted to be a priest and serve God.
The feeling of knowing that God was calling me to a deeper relationship with him persisted throughout my youth. In middle school and the first half of high school I kept having thoughts about the priesthood; however, I did not take this calling to heart. I would push the ideas out of my mind, or I would just ignore them.
In my junior year of high school, I experienced a desire for a personal relationship with God. I had always gone to Mass on Sundays and had tried to be a "good person," but I felt like something was missing. I realized that the best thing that I could do with my life is to do whatever God wants me to do. This lead me to begin to pay attention to those thoughts of being a priest.
I decided to go to the diocesan Come and See retreat. I was able to meet seminarians for the first time and see that they were regular people. Through prayer and the encounters with the seminarians at the retreat, I felt an invitation, an invitation to live for Christ and for others.
For the past year, I have lived at the House of Formation in Little Rock. I love being able to live and pray with all the other seminarians. Living in a community is a blessing. All of us come from different backgrounds, but are all seeking to learn what God has planned for our lives.
If you wish to contact Joseph Jones, please e-mail Miriam Gallaher in the Vocations Office or call her at (501) 664-0340. This article was published Sept. 17, 2019. Copyright Diocese of Little Rock. All rights reserved. This article may be copied or redistributed with acknowledgement and permission of the publisher.