Propaedeutic Year
Ethan Harris, St. Michael Church, Van Buren
Attends the House of Formation in Little Rock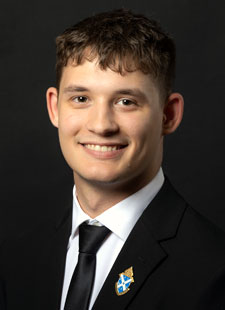 I have wanted to be a priest since seventh or eighth grade. During my confirmation year I felt God calling out to me from the depths of my soul. Sadly, no action on my part was taken for many years.
I also wanted to be a teacher in a classroom, and educate young people on the history of the world. However, I realized that desire put on my heart was only a smidge of the reality in store for me. That desire for teaching led me to the priesthood.
I recall being terrified by the constant and joyful love that filled my soul the very instant his grace invaded my heart. Christ pursued me, but now I must pursue him. Every time I've sat in Mass or served on the altar, I found myself filled with so much joy and peace. I would imagine myself as a priest, and that image pushed out every temptation from the world and lifted my spirit to God.
I would think about walking down the aisle toward the altar and praising God for the opportunity to celebrate Mass, and it would make my heart leap for joy. These experiences are evidence the Father truly desires me to be a father for his people.
It just shows that he sees something in me I often don't see in myself. The more I gave testimony and the more I loved others, the more confidence I gained in my discernment of my vocation.
The priesthood offers something I would very much regret to deny: the beauty of healing souls. Denying the invitation would mean missing out on offering guidance and giving new meaning to love within a parish.
Daily I felt Christ stirring my heart to reveal what I know to be true: I am called to be a priest. So I say yes. I want to become a priest because I want to give myself freely over to God to do his will for the good of his people.