IV Theology
Dc. Nathan Ashburn, Cathedral of St. Andrew, Little Rock
Attends Assumption Seminary in San Antonio, Texas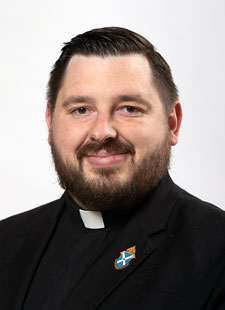 My journey began shortly after my six and a half years in the military. While I was in the military, I was a non-practicing Catholic. When I left the military, I started college and began working. It didn't take long for my parents to notice that I was suffering from some symptoms of PTSD (post-traumatic stress disorder). My father asked me to seek professional help, but I ignored him. I decided to take care of things on my own.
The symptoms that were plaguing me did not get better; they only got worse. Finally, I decided to listen to my father, and I set up a meeting with Msgr. Scott Friend only for counseling purposes. Msgr. Friend helped me clear up some issues that I had with the Lord at that time. After my first meeting with Msgr. Friend, I began to practice my faith once again. At that moment in my life, I was trying to figure out what I wanted to do. What kind of career did I want?
I thought about this for several months but got nowhere except for wanting to be a chef like my grandfather. I decided to ask the Lord for a change. I asked him, "Lord, what do you want me to do with my life?" I asked this question every day for two weeks while getting ready for work. A week went by, and I felt like the Lord was dropping hints, but I was not receiving them. I then asked the Lord, "Can you just tell me, Lord, what you want me to do? I'm not good at picking up hints."
Then another week went by, and I was hanging out with my friend J.B. While we were discussing life, in general, I heard a call from my soul where God dwells in all of us, say, "Nathan, I want you to be my priest." After I listened to this call from God, I felt like it was something I needed to give a try. The next day I called up Msgr. Friend, to see if it was possible to apply for the seminary.
I am now in my last year of theology at Assumption Seminary in San Antonio, Texas. I have enjoyed my journey so far to the priesthood: It has been an eye-opening journey. I was ordained a transitional deacon on May 25, 2022. This was a big step in my journey to the priesthood.
I have enjoyed my time as a deacon; I love bringing joy to the people in the sacraments. I have also enjoyed being with the people in parish events, journeying beside them in their lives. I immensely love the Lord, the Church, and the people of God. I might not be a soldier for my country anymore, but I am a soldier for God and servant to the people of God.
If you wish to contact Dc. Nathan Ashburn, please e-mail Georgina Pena in the Vocations Office or call her at (501) 664-0340. This article was published Aug. 8, 2022. Copyright Diocese of Little Rock. All rights reserved. This article may be copied or redistributed with acknowledgement and permission of the publisher.