Mental illness support group here to help
Published: May 1, 2018
is a support group for people suffering from mental illness and their families.
According to the National Catholic Partnership on Disability (NCPD), one out of every four families struggles with some level of mental illness. That means, "when your parish gathers, nearly everyone there will know someone who has a mental illness of varying severity and length."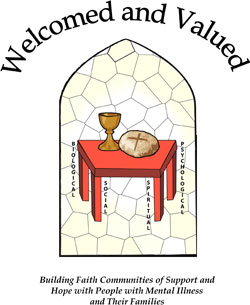 The month of May is Mental Health Month. The NCPD offers resources to help individuals and parishes grow their awareness of mental illness. Its newest is: "A Pastoral Response to Mental Illness: Resources for the Catholic Community," by the NCPD Council on Mental Illness. This document answers the questions: "Why is this important to my parish community?" "Do people with mental illness feel welcome in my parish?" and "Is recovery possible?"
Other resources include: prayers of the faithful; biography and prayer for the intercession of St. Dymphna of Gheel, of Belgium, who is the patron saint of those with mental illness or nervous or emotional disorders; articles on how to minister to people living with mental illness to use as a bulletin insert; and "Welcomed and Valued: Building Faith Communities of Support and Hope with People with Mental Illness and their Families," a study manual and DVD. Most of these are available in English and Spanish.
In the Diocese of Little Rock, Catholic Charities of Arkansas hosts a local chapter of the St. Dymphna Society, which is a support group for people suffering from mental illness and their families. Monthly meetings are held on the last Tuesday of each month in O'Connell Lounge, located in Morris Hall on the grounds of St. John Catholic Center in Little Rock.
According to Rebecca Cargile, director of the Parish Social Ministry Office, the goal of the organization is to provide support and help participants realize their value and understand they are genuinely welcome. St. Dymphna Society events begin with Mass at 6 p.m. followed by a meeting. See complete schedule for meetings. For more information, e-mail Cargile or call her at at (501) 664-0340, ext. 355.