Mental illness sufferers: You're not alone
Published: April 26, 2021
a support group for people suffering from mental illness and their families, will have an in-person meeting at 6 p.m. May 25 at St. John Catholic Center in Little Rock. COVID-19 precautions will be followed. No reservations are necessary and all are welcome. Click on the link above for additional details or contact Catholic Charities of Arkansas at (501) 664-0340.
After a year of isolation because of the COVID-19 pandemic, the National Alliance on Mental Illness wants to stress "now more than ever, we need to find ways to stay connected with our community. No one should feel alone or without the information, support and help they need." Arkansas' NAMI affiliate offers a toll-free helpline at (800) 844-0381 for anyone who needs support. If you need help immediately, call Arkansas Crisis Center at (888) 274-7472 at any time. Calls are answered 24 hours per day, seven days per week.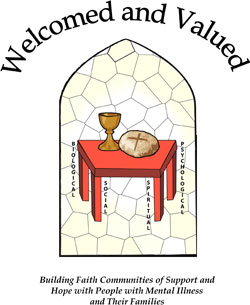 The National Catholic Partnership on Disability (NCPD) offers "A Litany to Our Lady, Comforter of the Afflicted for Mental Health Support During the COVID-19 Crisis," and the reflection: "Each Day I will Recall that I am a Child of God" for anyone struggling with mental illness. Other helpful resources are: "Amid the Storm: Anxiety in 2020" a special section from Arkansas Catholic and warning signs that your child is stressed during the pandemic.
According to the National Catholic Partnership on Disability (NCPD), one out of every four families struggles with some level of mental illness. "The stigma attached to mental illness forces many to hide the severity of their symptoms or those of a loved one. Many stop coming to church due to the stigma. Stigma is the single greatest barrier to people getting effective treatment. Leaders of a parish, diocese or other Catholic organizations can fight stigma by learning the signs of mental illness and reaching out to those living with the illness."
The month of May is Mental Health Month. The NCPD offers resources to help individuals and parishes grow their awareness of mental illness through its: "A Pastoral Response to Mental Illness: Resources for the Catholic Community," by the NCPD Council on Mental Illness. This document answers the questions: "Why is this important to my parish community?" "Do people with mental illness feel welcome in my parish?" and "Is recovery possible?" Other resources include prayers of the faithful and "Welcomed and Valued: Building Faith Communities of Support and Hope with People with Mental Illness and their Families," a study manual and DVD.
The feast of St. Dymphna of Gheel, of Belgium, the patron saint of those with mental illness or nervous or emotional disorders, is celebrated on May 15. The NCPD offers prayer cards for her in English or Spanish. Learn more about this saint from the website of a national shrine dedicated to her in Ohio.
The local chapter of the St. Dymphna Society, a ministry of Catholic Charities of Arkansas, is a small peer, support group for people living with mental illness and their families. Meetings had been suspended because of the COVID-19 pandemic, but an in-person meeting is now scheduled for May 25 in Morris Hall on the grounds of St. John Catholic Center in Little Rock. Everyone must wear a mask and observe 6 feet physical distance. Mass will be celebrated at 6 p.m. in Morris Hall Chapel followed by a meeting in O'Connell Lounge. Attendance at Mass is not required. No reservations are necessary and all are welcome.
According to Rebecca Cargile, St. Dymphna Society coordinator, the goal of the organization is to provide support and help participants realize their value and understand they are genuinely welcome. For more information, e-mail Cargile or call her at (501) 664-0340, ext. 355.
---