2017 — IV Theology
Dc. William Burmester, St. Joseph Church, Conway
Attends St. Meinrad Seminary, Indiana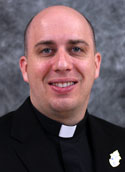 Each time there was a major transition in my life, requiring me to make a decision about my future, I felt a call and desire to be a priest. The first time I was aware of a calling to the priesthood I was applying for college.
At that time, I decided to talk to my pastor about my future plans. He helped me listen to where God was calling me after high school. After a few months of prayer and going to daily Mass, I decided that I would go to the University of Central Arkansas (UCA) in Conway.
Once I made that decision, my pastor gave me words of wisdom that I lived by in college: Stay close to the faith and God will still be calling you in the end. This was my mantra for my experience at UCA.
The best way I found to live that out was to get involved in Catholic Campus Ministry (CCM). I participated in weekly activities and made some great friends that helped strengthen my faith. The friendships I made at CCM throughout my time in college showed me the importance of a community of faith and the happiness that comes from sharing the faith with one another.
During my time in college, I feel like the annual mission trips were the activities that helped foster my vocation the most. I went on four mission trips and each time the desire to be a priest returned.
There is something special about spending time in a close group working for the same purpose. Those mission trips also showed me the universality of the faith that is beautifully connected through the Eucharist. These experiences were helpful when I began discerning what to do after I graduated college. At that time of transition, I had many options but I decided to follow the call I felt my senior year of high school and go to seminary.
During the past four years in the seminary, I feel that a desire to love universally has been growing. God's calling is becoming internalized as a desire to be there for people whether it is in rejoicing new life, the pains of death, in their joys, sadness or despair.
God is instilling in me a desire to bring his love to them. This desire has required my commitment and daily "yes" to God. There are two reasons for my increased commitment and desire to be a priest. First, the seminary process has instilled in me a strong prayer life that has strengthened my relationship with Christ.
Equally important, however, has been the prayer and support from all of the people in the diocese. I am amazed by the amount of support I have received from everyone in the diocese during my time in the seminary. Your prayers have strengthened my vocation and helped me freely choose to become a priest for the Diocese of Little Rock.
E-mail Dc. William Burmester
(Enviar mensaje de correo electrónico)