2017 — IV Theology
Dc. Ramses Mendieta, Immaculate Conception, N. Little Rock
Attends St. Meinrad Seminary, Indiana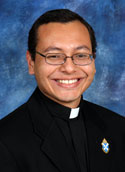 The call to priesthood raised a tremendous desire to lead my brethren toward Christ's heart, to follow him just as Peter and Andrew, who became fishers of men, or saints like St. Francis, who abandoned a successful life as a merchant and knight.
Now, it was I that was feeling a similar call and needed to respond; though there were some fears and insecurities that God was transforming into strengths and gifts along the way.
I was born and raised in Managua, Nicaragua, and at a very young age, I started feeling God's call to the priesthood. The most important event that influenced my discernment was the New Life Retreat at my home parish when I was 14 years old. This retreat strengthened my commitment to love the Lord and his Church by promising myself to the service of others.
Henceforth, I began to be more involved in parochial groups such as youth ministry and I became a lector and altar server. These different pastoral experiences and a growing life of prayer increased my love for the Lord.
How much this love demanded more from me! I had dreamed of having a successful career, a beautiful spouse, and of being the father of a couple of children. But now, I felt the Lord had put into my heart the dream to become a father of many, to be a priest.
I entered college in Managua, and began studying philosophy at the Universidad Centroamericana (UCA). I had planned on going to seminary after my studies, but my encounter with Matilde Izaguirre, a good friend of my family, turned these plans in another direction.
Matilde had been living in Little Rock for many years and knew Bishop Anthony B. Taylor and Msgr. Scott Friend. I shared my vocation story with her and Matilde suggested that I apply to the Diocese of Little Rock.
She graciously recommended me to the Vocations Office of the Diocese of Little Rock and a year later, in May 2010, I was contacted and accepted. I cannot deny my feelings of excitement and joy, but at the same time, I sensed that God was asking me to leave my net and boat — in this case, my family.
Being 20 years old at the time, it was the hardest aspect in my journey, especially coming from a very close nuclear family. I discerned this possibility, and I eventually I embarked for Little Rock.
It's been six years since I came to Arkansas, and despite the fears such as the absence of my family, the learning of a new language and new cultural ways, the Lord has provided people and circumstances that have let me see his love and kindness; that I have never been alone.
If I have to define in one word this journey, it is trust. I have become more dependent on God by listening to him in prayer, and in my own seminary formation, and experience his love through many families and new friends that walk along beside me in their prayers.
I was recently ordained a transitional deacon and am in my last year of seminary. God willing, I will be ordained priest next year. With Jesus' grace and the protection of our mother, Mary, I hope to serve in the Diocese of Little Rock. I thank you for opening your doors to me and for becoming my new home and family.
E-mail Dc. Ramses Mendieta
(Enviar mensaje de correo electrónico)